You're not going to turn into a crazy cat lady if you take them, but the dangers of male enhancement you've heard about are real. Male Enhancement pills (and health supplements in general) have been in the news of late, with two major stories that suggest the dangers of male enhancement aren't just real – they're likely.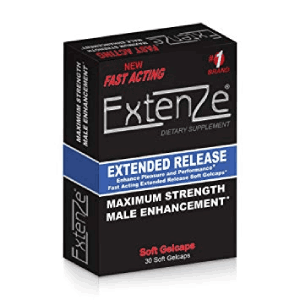 Those two big stories are news that the two largest retailers on the planet, Amazon and Walmart, are and/or were selling fake health supplements in 2019 and 2015 respectively. Both companies say they're taking steps to fight the issue, but fake supplements are out there. And depending on your medical history, their side effects can be dangerous.
So how do you avoid the dangers of male enhancement pills? The quick version is to buy from well-established products, on their official websites, preferably doctor-endorsed and those that are made at cGMP-compliant facilities in the United States. We'll talk about that, and how to choose male enhancement pills that – wait it – actually work. Yes, they're out there.
Amazon and Walmart Busted For Selling Fake Supplements
In July 2019, Amazon sent a rather chilling email to one of its customers. She'd bought pills from Amazon in April and began using them on the 25th of that month. Then the email came. Its contents: she'd been using a fake health supplement the whole time.
Amazon suggested she stop using the product and speak with a doctor immediately. A wise move – some fake supplements have shown to contain toxins like feces and rat poison. Yup, really.
Her confusion came from the fact she thought she was buying a Procter & Gamble product when she whipped out her credit card. It turns out the supplement she bought was made by a third party – an issue that also came up in early 2015, when four other retailers were accused of selling fake herbal supplements.
They're not just any retailers either. Ever heard of Target, Walgreens, GNC and Walmart? They were all sent Cease and Desist letters in 2015 to stop selling fake and potentially harmful herbal supplements, though it's unclear if any of them knew they were fake when being sold.
What Are the Dangers of Male Enhancement?
Despite what some companies will tell you, 'natural' does not mean 'no side effects'. Do you think Aspirin has side effects for some people? Well here's a piece of trivia for you: Aspirin was originally developed from willow bark (yes, from the willow tree), and it still the primary chemical that makes the world's most common pain killer do its job.
Male enhancement pills aren't above side effects either. The dangers of male enhancement pills include:
Dizziness
Congestion
Flushed Skin
Nausea
Muscle Pain
Dizziness
Ear Ringing
Adverse Reactions from Certain Medications
The health risk is even higher with fake male enhancement pills– especially if they're not made in the United States and with no way to verify ingredient purity.
A 2015 study published in the Journal of Sexual Medicine found that 81% of over the counter male enhancement pills bought in the United States had undisclosed ingredients in them. That's a problem. A big one – and it highlights the dangers of male enhancement, and the need to buy products from products that work, and, obviously, won't jeopardize your well-being.
How to Avoid Dangerous Male Enhancement Products
So how do you avoid the dangers of male enhancement? Let me clarify right now that you can – and not all male enhancement pills are dangerous. The trick is to know how to identify red flags and opt for real male enhancement pills that are not only safe, they're effective too.
Not rocket science, but at times with male enhancement, it can be hard to see the forest from the trees. The dangers of male enhancement are real, but so are good male enhancement pills that work (shocker) and can put more and better sex in your bedroom. Here's how to do that:
Buy Male Enhancement Pills Direct From a Reputable Company
Not to talk smack about male enhancement on Amazon, but in most cases, you should avoid this completely. Despite what the product description claims, you don't know it's real. Also, remember that products with large supply chains are more vulnerable to counterfeiters – especially if they're made off shore.
Buy male enhancement pills from companies that make the product at a cGMP- compliant facility in the United States. That means the facility complies with strict health and safety regulations. Look for products with longevity (meaning they've been around for at least 10 years).
Research the product too. Does it have many good (real) client testimonials? That's a good sign. And – very important – avoid male enhancement pills if they are being sold lower than the company's official retail price. That's a big red flag.
Look For Other Red Flags
You know not to buy male enhancement pills lower than the company's official pricing. Also, does the product have contact information? Customer service? If not, add those to the list of male enhancement products to avoid.
Find (and Buy From) Established Products
Male enhancement is a cut throat industry in which Darwin is alive and kicking. Weak products don't make it. The strong make it past 5 years, and the stronger still have customer testimonials, doctor endorsement (from respected doctors) and a live customer service line.
Now add clinical studies to this criteria – and good results from those studies – and you'll see it's a very short list. As it happens, that's also the list of products that work, and pretty much help you avoid the dangers of male enhancement.
Two Highly Recommended Male Enhancement Pills
OK, now you know the dangers of male enhancement are real. You've got an idea how to avoid the worst offenders and have basic criteria for how to find male enhancement that works.
The latter is a short list. A very short one – but these two male enhancement products are on it. In fact, they're at the top. And if you're looking for me to recommend male enhancement products, it's these two right here…
VigRX Plus
One of the best-known of all natural male enhancement pills, VigRX Plus just brings it, with an excellent formula, approval from Dr Steven Lamm of The View, clinical studies and results, results, results. Simply put, this is the best male enhancement product on the market.
Why It's Good: VigRX Plus leads male enhancement. The formula pops, it's clinically shown to work and it's got a track record of hundreds of thousands of customers across the global. It's made in the United States too, and has live customer service 7 days a week. Not cheap, but definitely the best. And it comes with a Verification Code on each box so you can test that it's real.
Clinical Proof: VigRX Plus is shown to boost sexual and intercourse satisfaction by 71.43%.
Official Store: VigRXPlus.com
ProSolution Plus
This is another excellent male enhancement pill. While marketed as a natural remedy for premature ejaculation, it's also an excellent male libido pill. Use it to last longer in bed or to get a hard on, take your pick. ProSolution Plus is at the top of male enhancement.
Why It's Good: ProSolution Plus is clinically shown to help guys last longer in bed. It's also part of the ProSolution family which, like VigRX, is one of the longest and most respected names in the business. Most importantly, it works, and brings new energy to a sex life gone stale or non-existent
Clinical Proof: ProSolution Plus is shown to reduce premature ejaculation by 64% and improve erectile quality by 67%.
Official Store: ProSolutionPlus.com
If you want to avoid the dangers of male enhancement, these two products are the way to go.
You Might Also Like